Change of lighting
New lightbulbs, Flexible Office, and a few Yes Yes rapid fire questions answered
Monday Monday is a free weekly newsletter. If you want to support this space and have access to my monthly advice podcast + transcribed column YES YES as well as the occasional Friday Thread become a paid subscriber.
You can also share excerpts of today's Monday Monday on social media, forward it to someone who might benefit, or text it to a friend. Thank you for reading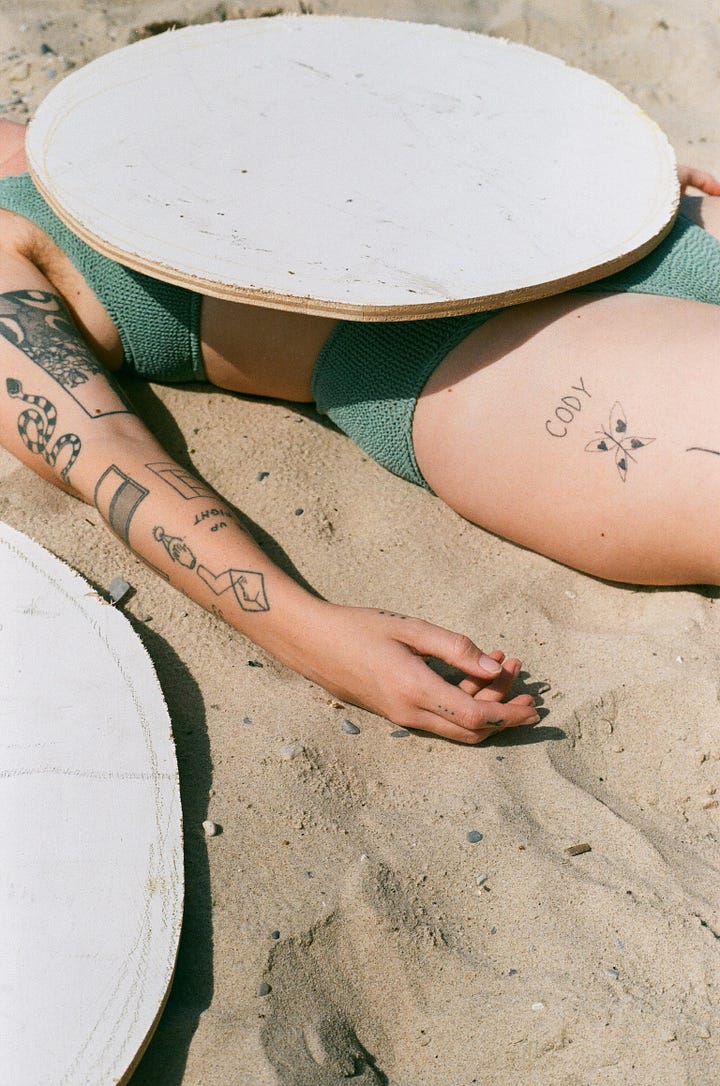 On Monday mornings I usually have something very specific I want to write about. My love life in a vague paragraph about the bay swans returning. The way the shapes of my life shift at a moment's notice. A bright spot from teaching Quilt Class.

A theme, a promise, a direction.
Today the clarity of the message doesn't come to me. All I know is Katie is visiting and she helped me pick out the Philips Hue lightbulbs that you control with an app and suddenly my house feels very vibey. I know that I saw the people I love the most play songs and that made me feel socially fulfilled and exhausted. I piece together little moments of hope between waves of stiffness.

I don't really have a routine in these grey days
I just sort of pray I have alone time and then pray someone will visit me
I feel the discomfort of not "feeling" prolific
I feel the discomfort of the privacy of inching toward sanity

So today I keep it simple and I turn to the people, a handful of Yes Yes questions that touch into the grief space, the midst of uncertainty, may they be of great benefit
Also! A place to bring the not knowing : Flexible Office starts February 7 with a very cool opening visioning session Sunday February 5 and I can only speak for myself but
I can't wait to move from Winter to Spring with these office hours and community built in


YES YES RAPID FIRE EDITION
Hi Mar. I'm going through a lot all at once- a break up with my long term partner, and coming to terms with my family dynamics and how abusive and not sustainable it is to try to be in any type of relationship with my family. I have tried, for a long time. But when I came out as non-binary 5 years ago that was the final straw on the back for my relationship with my mom who has had a really difficult time accepting me. But the truth is she has always had a difficult time accepting me, and our relationship has been fraught for most of my life. I am finally coming to terms inside of myself that my family is not going to grow/change (at least not on my timeline). There are ways I have brushed things under the rug that they have said or done because it was too painful to really be with. But in doing that I have been in denial about the reality of our relationship and have done an injustice to myself. Anyways, all of this is to say I'm in a place of deep, deep grief. The kind of grief that feels so alone. I feel so alone. I have some friends, and my dogs, but I still feel like I'm in a season of facing the world alone, and that feels unbearable some days. How do I make it to the other side of this season of grief and aloneness?
You can you can you will I know this to be true! The grief of being alone brought me into the great joy of being alone, something I prefer now most days. Yet we need connection, now more than ever.

What you are experiencing is so normal, and yet - not normal at all. You are magic did you know that yet? Entirely filled with stardust and golden spheres of truth and trust. Sounds like you really know yourself and are going to be on the right path soon enough. Rising from the ashes.

In the meantime : read When Things Fall Apart by Pema Chodron and turn on some pop music really loud. Perhaps while you face the world alone you can turn up some sounds while you turn down other ones.
Just know, in the great aloneness- there you are. The only you there will ever be!
Classic tale of lesbian falls for female friend. For a year now I've had a very intense crush on an old friend. We live in different cities so we don't see each other a ton, but whenever we do I feel kind of submerged in her. I've always found her attractive (we had sex once like 7 years ago but neither of really remember it as we were drinking heavily then) but I pinpoint this crush to about a year ago when she made an off-hand comment about me being 'sexy'. I was in a fairly unhappy relationship then and spent the next few months distracted by 'what if' thoughts about my friend, until I ended the relationship around 3 months ago. I guess my question is: do I tell her how I feel? I don't expect her to reciprocate, but sometimes I think maybe by just saying it out loud it'll help me move on. But that obviously comes with the risk of alienating her and ruining our friendship. Advice from my friends runs the gamut from 'shoot your shot!' to 'you'll ruin your life if you say anything!' Any experience or advice you can share would be appreciated. Thanks for all
Here is what I know about the great lesbian love affair - it only FEELS like your life is being ruined, it won't actually be ruined! Mercury just stationed direct, hell! TELL HER YOU LOVE HER!
All we have is love in this one big life and what a blessing to let her know how adored she is. And and and, you can frame it in the container of - this love contains multitudes and there are so many ways to love. Let her know that while the feelings are there, your friendship is so important and you would be happy to keep things platonic. One or both of you might need space after that kind of big information so - take it easy.
But kissing rules and so do crushes and my tornado mood is lets tell her!
Dear Mar, I'm looking for your advice on coming back to myself. Specifically, the version of me before the pandemic that used to love solo-travel. I used to travel alone a lot, and it was some of the happiest moments of my life. I now feel so scared to book a ticket and go. I have traveled with others but not by myself. I have booked two airbnbs in other countries planning on a solo trip, and then canceled. Part of it is I look visibly much more queer/trans than I did several years ago and I'm scared of being in a new place where I'm not sure how that will be received. And part of it is I have just gotten more scared in general to be somewhere new where I don't know anyone or anything. What do I do? Just trying to talk myself out of the fear does not seem to be working
Hi yes ok lets do this GO ON A TRIP - this is your big permission slip for BOOKING A PLACE. Perhaps we start with somewhere where we know there will be more safety around being trans and queer. Like how do we take baby steps?!
Make a list - where do you want to go?
Lets pick the safest one
Book an airbnb!
DO NOT CANCEL THIS AIRBNB
You are safe, you are sooooo safe. Mask up, bring some tinctures, make sure you have your meds - whatever your little things are that keep you steady!

I find when I am very far away from a thing I used to do - sometimes I just need to do the safest option to get back in the swing of things.
I want this for you! We all do! No doubt in my mind you can do it <3
I tend to follow your work and admire your recent decision not to write about your romantic life going forward. I'm curious if you'd be willing to answer a q for your podcast about your evolving views of polyamory: you've never seemed to discuss it outright, though I get the impression that your last relationship was poly. As someone who has dated a poly person and decided it's not for me, I'm curious to hear if you have any reflections yourself.
JUICY JUICY JUICY - So much to say about this and the good news is I said I was retired from writing about love but I did not say I was retired from talking about it on the Yes Yes podcast : tune in later this week for the magic of the inner shift
FLEXIBLE OFFICE
TUESDAYS AND THURSDAYS STARTING FEBRUARY 7
An Experimental Space for Accountability, Cultivating Creative Attention, and Togetherness in the Digital Realm : may it ripple into the world and back to your self
TUESDAYS AND THURSDAYS WINTER/SPRING FEB 7 - APRIL 6
🏀 Visioning session opening zoom - Sunday Feb 5 12pm EST
🏀 Sharing session ending zoom - Sunday April 9 12pm EST

Flexible Office is sliding scale with limited scholarships
New lightbulbs
The way the sun crept through the clouds today
Safety in my chest
June curled up on the couch while Ernie curls up in front of the fire
Finally watching Season Two of The White Lotus
Vitamin D as a gummy is better than the capsule
Only listening to this from now on
Neon ugg clogs
Can't believe how good the new Bonny Doon song is
I have deep gratitude for my life today, walking reminds me of that
A portion of January's paid subscriptions goes towards The Loveland Foundation's therapy fund which provides therapy for Black Women and Girls
Monday Monday is a reader-supported publication. To receive the Yes Yes podcast and Friday Threads, consider becoming a paid subscriber
⌇⋰ Instagram 
⌇⋰ Website
⌇⋰ Email : info@marleegrace.space
or respond to this email, I love to hear your thoughts
⌇⋰ PO Box 252 Cedar, MI 49621